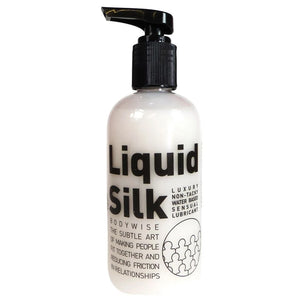 You can search in boutiques and stores everywhere, but you will never find a better personal lubricant than Liquid Silk. Liquid Silk is a luxurious, non-tacky, water-based product that provides superior, natural lubrication for foreplay, intercourse or even sensual massage.


Many customers use it as a wonderful skin conditioner. Recommended by health care professionals, a little of our best-selling lubricant goes a long way! The convenient pump allows you to gently tap the top for a few drops of this miracle liquid.  Because it contains silicon, Liquid Silk is unbelievably slippery and unlike most lubricants, Liquid Silk will never dry out.


It is also designed to reduce the risk of skin irritation, making sex safer and more enjoyable. Liquid Silk is also formulated to be bio-static; this means that it will stop any bacteria or yeast to which it is exposed. Users praise that it is discreet and odorless, and it never dries out leaving your skin cracked and flakey. This is our best-selling lubricant for a very good reason- once you've tried it, like hundreds of satisfied customers, you'll be back for more.


Ingredients: Highly purified water, Propylene Glycol, Isopropyl Palmitate, Dimethicone, Cellulose Polymer, Polysorbate 60, Sorbitan Stearate, Cetearyl Alcohol, Glyceryl Stearate NSE. B.N.P.D, Di Sodium EDTA, Phenoxyethanol, Methyl Paraben, Butyl Paraben, Ethyl Paraben, Propyl Paraben, BHT.