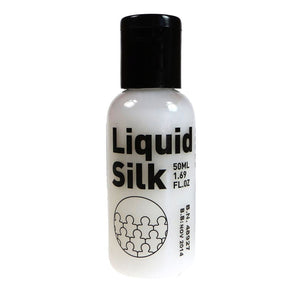 If you have never had the pleasure of using Liquid Silk, this is the ideal size to try it. Do not be deceived by the smaller size because a little of this luxurious lube goes a long way. It is water-based and is never oily, greasy or tacky. It is also formulated to be bio-static which means should it be exposed to any bacteria, yeast infection or fungal spores it will stop them from spreading.

Because of its silky feel, many couples like to use this lube for personal massages because it is also a great skin conditioner.  it will leave behind an improved skin feel, tone and texture. You will not be able to keep your hands off your partner! Liquid silk has a touch of Silicone making it last longer than regular water based lubricants.

This small 10 ml size is perfect for keeping in a drawer by your bedside. It is not bulky and totally unobtrusive. Liquid Silk is also a great accoutrement to all male and female sex toys. 

Ingredients: Highly purified water, Propylene Glycol, Isopropyl Palmitate, Dimethicone, Cellulose Polymer, Polysorbate 60, Sorbitan Stearate, Cetearyl Alcohol, Glyceryl Stearate NSE. B.N.P.D, Di Sodium EDTA, Phenoxyethanol, Methyl Paraben, Butyl Paraben, Ethyl Paraben, Propyl Paraben, BHT.