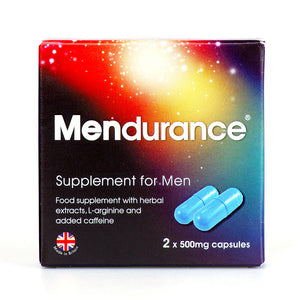 Mendurance is your wingman when you just need a little extra oomph. Designed for more fun, it's your little secret that packs a big punch!
Mendurance food supplement is a caffeine based stimulant with added active ingredients to give you an extra boost, including Gelatin, L-Arginine Monochloride, Ginger, Korean Ginseng and Fenugreek. Whilst Mendurance will leave you feeling super charged, it will not help with erectile dysfunction!
Suggested dose: 2 capsules in any 12 hour period.
Made in the U.K
Recommended uses: Sexual performance supplement, Energy boost
Ingredients
Gelatin, Guarana 200mg, L-Arginine Monochloride 200mg, Ginger 20:1 extract 120mg, Caffeine 100mg, Korean Ginseng (Panax) 4:1 extract 100mg, Cayenne 60mg, Fenugreek 4:1 extract 60mg, Griffonia Seed extract/5-HTP 98% 60mg, Cocoa Seed 20mg, Magnesium Stearate, Anti-caking agent Silicon Dioxide.