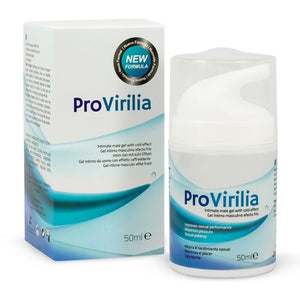 Provirilia is an intimate gel for men with cold effect that helps improve sexual performance, increasing the pleasure and providing new sensations .Thanks to its innovative composition menthyl lactate. Provirilia helps achieve a more satisfactory and maximize sexual stimuli thanks to its cold effect in sexual intercourse.
Provirilia is indicated for:                       
Improve sexual performance
Intensify the pleasure of sexual relations
Increase desire and  Libido
How does it work? Provirilia helps to increase feelings in male genital area through natural ingredients such as Frescofret, a compound based of menthyl lactate which increases penile sensitivity, thereby enhancing the pleasure of relationships. Thanks to the cold effect which increases sexual desire and makes other ingredients more easily absorbed collectively contribute to the improvement of sexuall performance
How to use? Provirilia intimate gel with cold effect act directly on the penis which helps to increase sexual performance. Thanks to its natural ingredientes. Only apply a few drops on the penis minutes before intercourse.
Ingredients: AQUA, ALCOHOL DENAT, GLYCERIN, PROPYLENE GLYCOL, METHYLPROPANEDIOL, CARBOMER, MENTHYL LACTATE, CAPRYLYL GLYCOL, MENTHOL, TRIETHANOLAMINE, DISODIUM EDTA, PHEYLPROPANOL.
Are there any side effects? There are NO side effects.