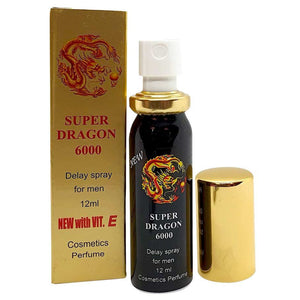 SUPER DRAGON 6000 DELAY SPRAY
GUARANTEED ORIGINAL PRODUCT for men it is a superb quality product specially formulated to reduce over-sensitivity & prolong love making sexual pleasure. The only product in the market with the magical blend & Vitamin E. Super dragon delay spray will exert a calming effect to aid sexual confidence.
Try it out today, we are confident you'll be pleased & surprised!
Specification: 12ml/one bottle Expiration Date : 11/2023
Helps to control your ejaculation. Added Vitamin E to nourish cells and increase cell energy stores, Quick and easy to apply 5 mins before sex, Easy to hide in your pocket. Contains over 100 sprays each container, Last longer and satisfy your partner
NEW FORMULA (03/2019) SUPPLIED BY THE UK'S LEADING TRADE DISTRIBUTOR